ANTLR Development Tools

There are plug-ins for Intellij, NetBeans, and Eclipse.
Intellij 12-14 Plugin for ANTLR 4
We have a ANTLR v4 plugin for Intellij 12.1, 12, 14. Features:
Syntax highlighting and syntax error checking
Navigation window
Code completion for tokens, rule names
Live grammar interpreter for grammar preview
Config per grammar, autobuild on save
Use the meta-key while moving the mouse and it will show you token information; click on the token that's underlined and it will show the location in the ANTLR grammar editor window of the grammar element that matched that token
Meta-j pops up a list of live templates, just like it does for Java programming
Ctrl-return, or whatever you have configured for the generate pop-up, will bring up a list of things you can generate
Alt-key while moving the mouse shows the region of input associated with parser rule that matched it
Clicking at the same time jumps the grammar to the associated rule. A pop up shows the parser call stack leading to that parse region.
Sophisticated profiler tab that shows ambiguities, lookahead depth, etc...
Sample usage showing Java grammar to the right.
ANTLRWorks2 and NetBeans Plugin for ANTLR 3 and 4
ANTLRWorks 2. This IDE is a sophisticated editor for ANTLR v3/v4 grammars as well as StringTemplate templates. It can run the ANTLR tool to generate recognizers and can run the TestRig (grun on command line) to test grammars. To integrate ANTLR-generated recognizers into your application, you will still need at least the runtime library.
ANTLR4 IDE Eclipse Plugin for ANTLR 4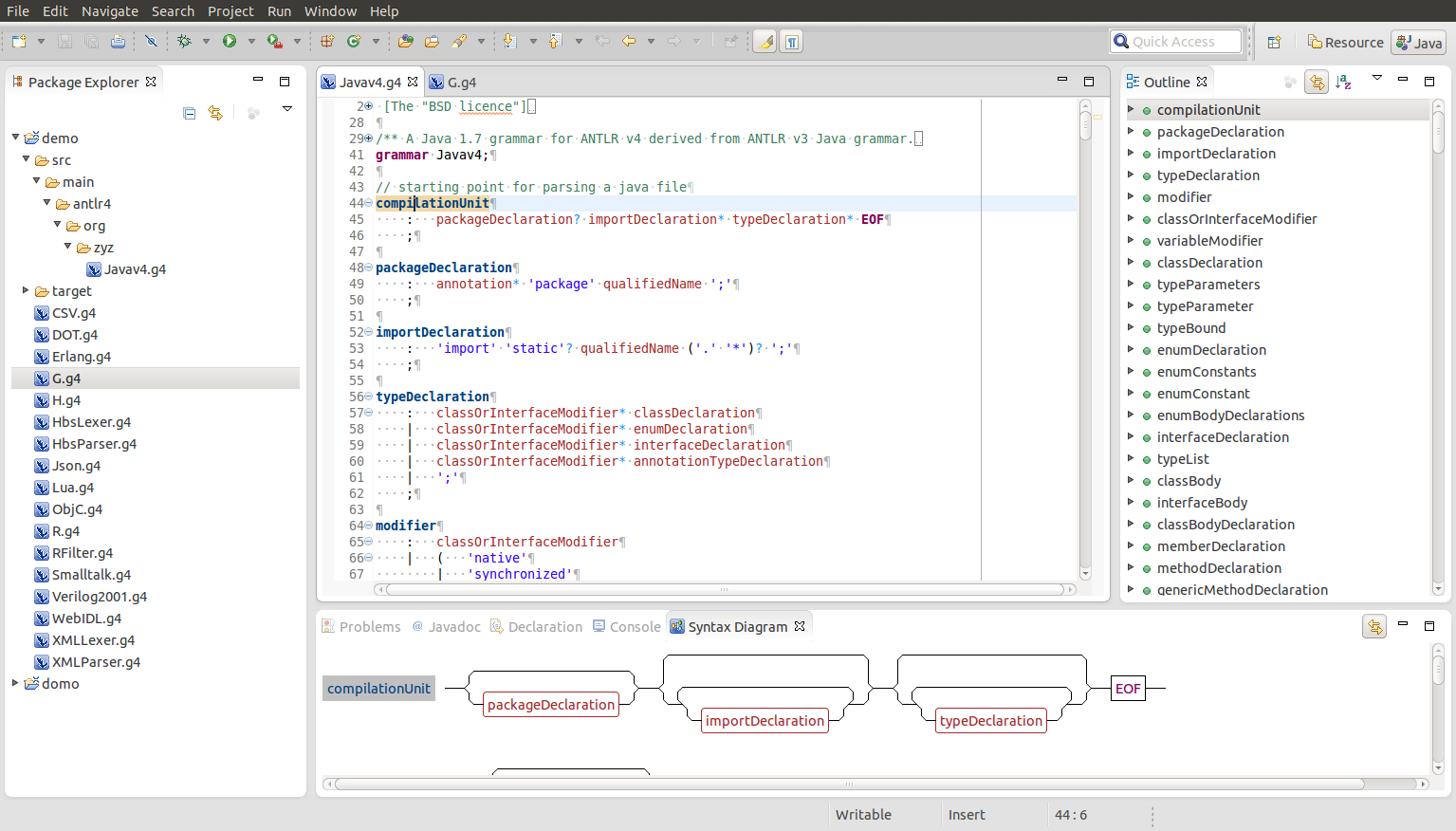 Edgar Espina has created an Eclipse plugin for ANTLR v4. Features:
Advanced Syntax Highlighting
Automatic Code Generation (on save)
Manual Code Generation (through External Tools menu)
Code Formatter (Ctrl+Shift+F)
Syntax Diagrams
Advanced Rule Navigation between files (F3 or Ctrl+Click over a rule)
Quick fixes
AntlrDT Tools Suite for Eclipse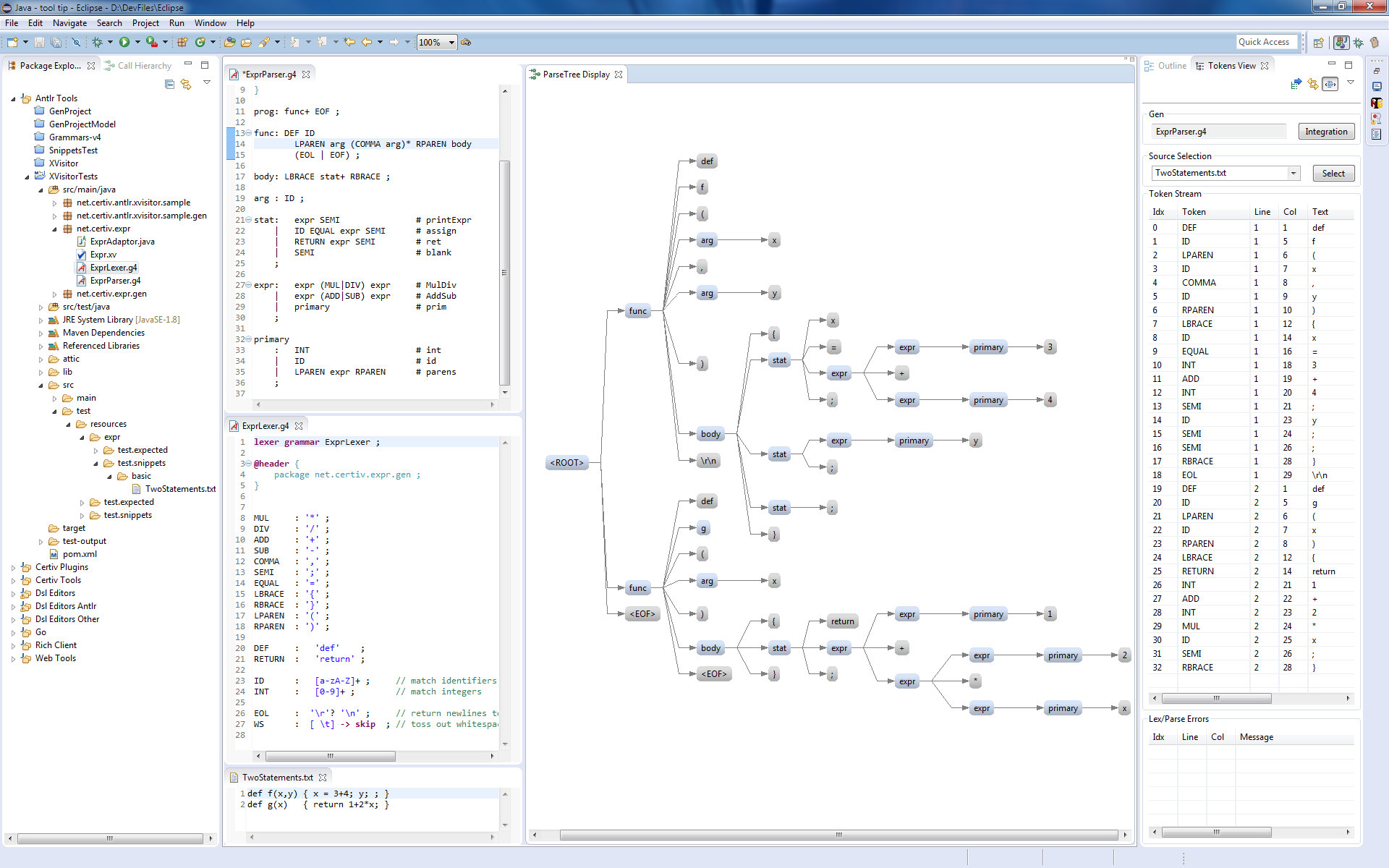 1. AntlrDT — an ANTLR v4 grammar editor and builder
full syntax-directed editor with outline view
hyperlinked navigation between rules and rule subterms
automatic builder with real-time problem feedback markers
ANTLR grammar and Java native code formatter
Parse Tree view – graphical visualization of generated parse trees

builds parse trees using full (non-interpreted) grammar builds and parsing
displays lexed tokens list and full parser/lexer errors list
supports use of custom token emitters, token factories, and error strategies

Paths view – graphical visualization of rule connectivity paths

shows all possible parse paths from the start rule to any other selected rule
particularly useful in the design of XVisitor grammars and ANTLR XPaths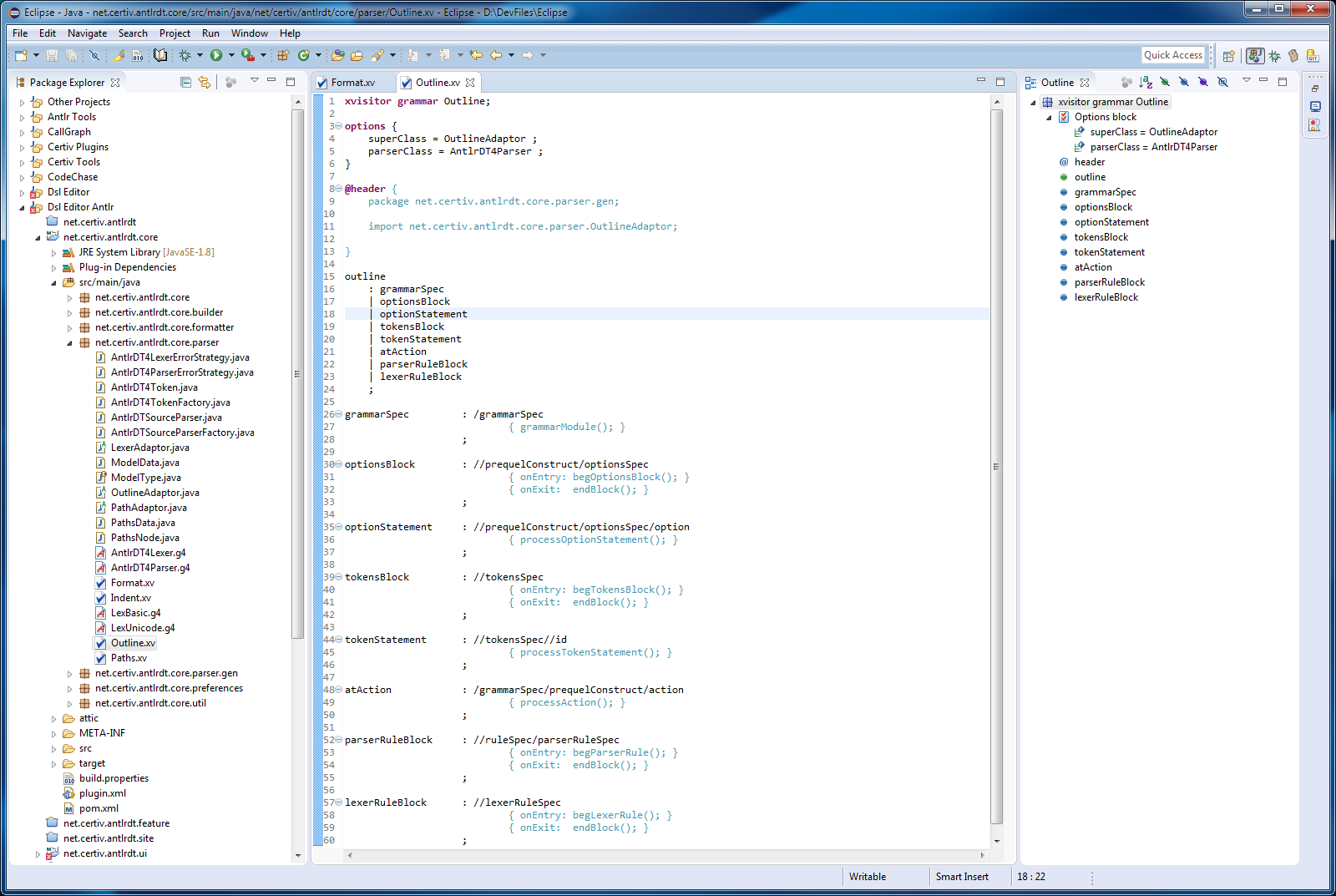 2. XVisitorDT — an XVisitor grammar editor and builder
full syntax-directed editor with outline view
hyperlinked navigation between rules
automatic builder with real-time problem feedback markers
builder performs automatic visitor code generation
utilizes fully symbolic XPath-style rule path references
ANTLR grammar and Java native code formatter
3. StringTemplateDT — a StringTemplate v4 template editor
full syntax-directed editor with outline view
for template ('.st') and template group ('.stg') files
Update site: http://www.certiv.net/updates/